What Sets Sea Ray's SLX Series Apart from Other Luxury Boats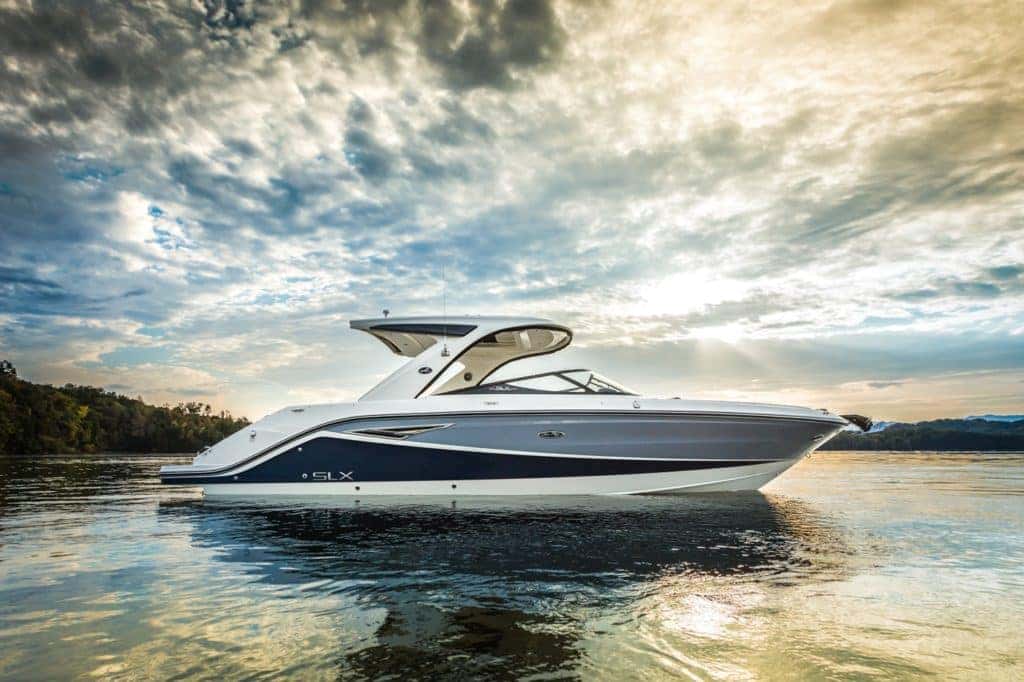 Canada has some of the best areas for freshwater boating in the world, but to enjoy this, you need a high-quality boat. Sea Ray offers a bold vision of what boating can be and brings that vision to life through superior craftsmanship, innovative design, and high-quality performance. Sea Ray's SLX series combines all of these qualities to produce a superior luxury sport boat. Keep reading to find out how Sea Ray's SLX series goes above and beyond to produce high-quality boats that will enhance your boating experience.
Looking for Sea Ray boats for sale in Ontario? Pride Marine Group is authorized to sell Sea Ray boats and has dealerships all over Ontario. Call (800) 991-3006 or contact us online today to book your appointment!
Craftsmanship
Quiet Ride: Quiet Ride is a trademarked system of technological advances that are exclusively available to Sea Ray boats. It reduces noise, vibration, and harshness by up to 50%, for a quieter and easier ride.
Dynamic Running Surface: Dynamic Running Surface automatically optimizes running attitude (the angle at which the bow meets the water) and trim (how far into the water the boat sits). This ensures incredible stability and performance. Large, triangle shaped planes in the hull create a better running surface; these planes improve the boat's acceleration, reduce its bow rise, and keep the boat at optimal trim, no matter weight of the load.
Dynamic Display: The Dynamic Display provides seamless vessel data, audio control and navigation capabilities in a touchscreen format with outstanding graphics.
Digital Throttle Control: The Digital Throttle & Shift control system delivers effortless command of the engines in your control. With this, you can expect easier docking, smoother shifting, and immediate throttle response.
Design
Comfort: Comfort was a key component in the design of the SLX series. The seating was designed similarly to luxury performance automobiles, combining several densities of shaped foam for optimal comfort. Cockpit layouts were designed for passenger interaction while on board.
Fit and Finish: The fit and finish of the SLX series also mirrors that of luxury automobiles, combining soft, textured upholstery and contrast stitching. The lines of the helm and forward-facing tower are inspired by race cars. Chrome accents and leather surfaces add an air of sophistication.
Amenities: Sea Ray offers amenities to suit all of your needs. The innovative transom area is great for entertainment with plush rear-facing seats for the best view of the water. Other amenities include swim platforms, spacious bow areas, entertainment centres, and more.
Canvas: Sea Ray uses Sunbrella fabrics for the SLX series. Sunbrella is the most trusted company for marine fabric due to its fade-resistant and water-resistant technology. With Sunbrella fabric as your boat's canvas, you and your passengers will stay safe from the elements.
Performance
Precision Control: Sea Ray's state-of-the-art hydraulic steering systems provides quick responsiveness. This allows for smooth, effortless steering and control in any water condition.
Packed with Power: Every SLX model features standard Mercury sterndrive or outboard power. Mercury engines provide incredible efficiency, reliability, and speed.
Water Sports Ready: The SLX boat series is designed for both action and leisure. You can coast along for a relaxing afternoon, or speed it up to enjoy more athletic activities. Features such as the Dynamic Running Surface and Mercury engines deliver maximum control and maneuverability. Hardtops and forward-folding towers are available to boost your game further with whatever gear you prefer at the end of your tow rope, such as skis, wakeboards, and tubes.
Looking for Sea Ray boats for sale in Ontario? Pride Marine Group has dealerships all over Ontario. Call us at (800) 991-3006 or contact us online today!