The Scoop on Robalo, Aluminum, and Fibreglass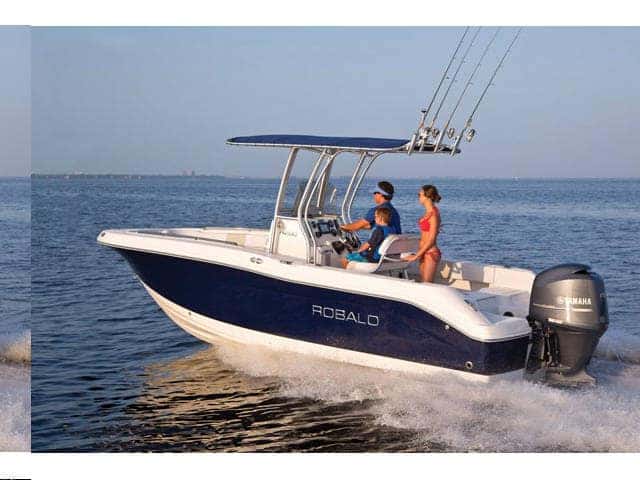 If you've looked into purchasing a boat for salt water boating, then you've likely seen the ever-constant debate between aluminum and fiberglass boats. Both of these types of boats are suitable for boating the salty seas, as neither will sustain damage from the salt water; but which one is better for you? We're here to make sure you make the most informed choices on your purchase! Learn about Robalo boats, fibreglass boats, aluminum boats, and more by reading our blog below!
Aluminium Boats for Saltwater
Aluminium boats can be up to 20% lighter than fiberglass boats. While this can be beneficial for transportation, lighter boats may come with some unexpected and unwanted surprises. Lighter boats tend to do poorly in terms of ride comfort, as the light weight doesn't allow for the boat to break through waves easily, which can result in bumpy boat trips. Heavier boats will do a better job in avoiding wave slapping, and are better for those who might have discomfort or anxieties during longer boat trips. However, on the upside, some aluminium boats can withstand damage slightly better than fiberglass boats.
Fibreglass Boats for Saltwater
As previously stated, fiberglass boats are great for their added weight, which will make your rides smoother and reduce turbulence. Fiberglass is also highly customizable, as the material offers much more range of movement in creation than aluminium; you can custom make boats that offer a wide variety of shapes, unlike aluminum where you are restricted.
What brand is best?
For most people, fiberglass boats make the most sense. In these cases, Robalo boats are our recommendation for comfort and style. The low speed stability, fuel efficiency, cornering agility, and full throttle capabilities all make Robalo boats an easy favorite for sea salt adventurers.
Robalo boats are a favorite for all waters. Have a questions about Robalo boats? Get advice from the experts at Pride Marine Group by calling 800-991-3006!