Must Have Apps for Your New or Used Boat: Part 2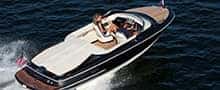 Pride Marine Group is back to bring you more must-have boating apps in Ontario! Ready to make your smartphone a powerhouse for your boating adventures? Read part two of our top boating apps below!
Need help choosing the best new or used boat for your specific needs and purposes? Then contact Pride Marine Group today at 800-991-3006 today!
Animated Knots
This is sure to come in handy on and off the boat. Animated Knots is an app filled with teaching tools and reference guides for tying knots. Boating hobbyists will love the step-by-step instructions and frame-by-frame animation that clearly and easily teach you how to tie some essential knots for boating. For five bucks, this app is an affordable resource that is sure to make your adventure run more smoothly.
Angler's Atlas
Angler's Atlas is a must have app for fishers. This app is a sort of social media platform for fishermen where they can share photos of their catches, describe how they caught them, and share the best fishing locations. You can add friends and see all of their photos and tips, as well! This is is free on both Android and iOS platforms.
Swell Advantage
Have family or friends that are out on the water? This app helps you make sure they are safe and sound. Swell Advantage lets you see the location of your friends out in the water, where they are headed, and at what speed they are going. This is a good option for parents, too! Swell Advantage is free for iOS and Android.
Still need to purchase a new or used boat in Ontario? Contact Pride Marine Group today for guidance! 800-991-3006!