Choosing the Right Boat for Wakeboarding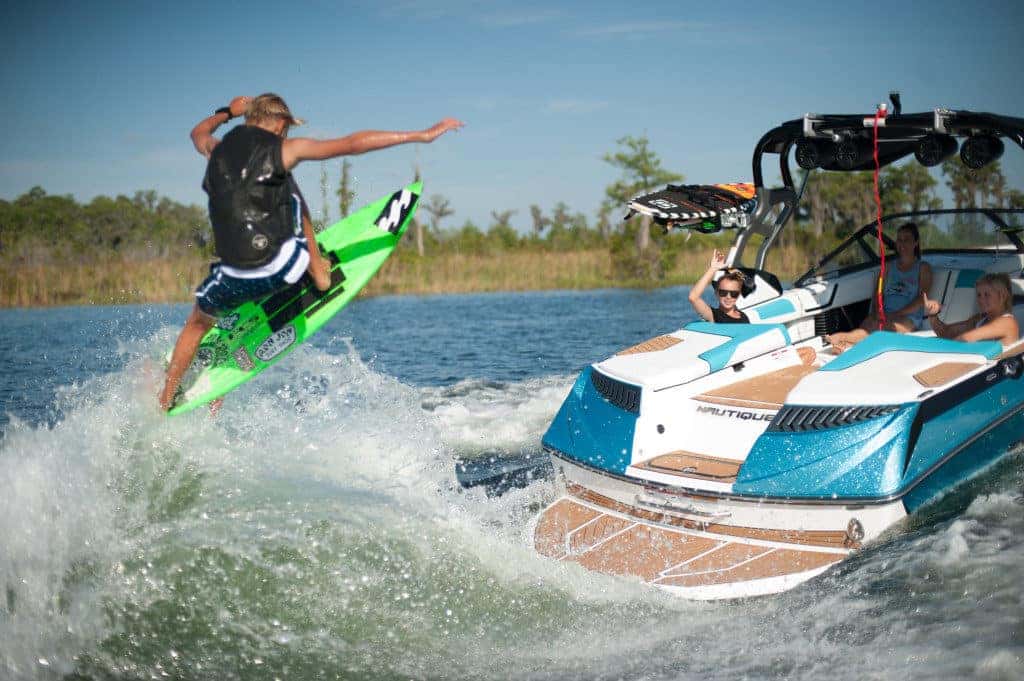 Choosing the right sports boat for you will depend on the activities you plan to use your boat for. Are you planning on using your boat for freshwater fishing? Or are you more interested in saltwater fishing? What about watersports, such as waterskiing or wakeboarding? All of these activities will require a specific type of boat with the right features to help you maximize your time on the water.
Finding the right boat for activities such as wakeboarding requires purchasing a specific type of boat, such as one from Nautique, Centurion, or Supreme. Pride Marine Group has a large selection of new and used boats for sale in Ontario and has several wakeboarding boat options available. Give us a call at (800) 991-3006 or contact us online to get a quote today. Keep reading to find out how to choose the right wakeboarding boat for you.
Wakeboard Boat Features
The term sports boat is often a general term used by boat manufacturers and sellers. This is an easy way to indicate the models in their inventory that have enough power and the right features to meet the requirements for more advanced activities, such as wakeboarding.
A boat designed for wakeboarding will have a fiberglass or aluminum tower which extends up and over the cockpit of the boat; this tower will have a section on the top center to attach the tow rope can be found.
The tower is the specific identifier of a wakeboard boat. The tower elevates the pulling position of the rope allowing the wakeboarder to launch themselves into the air and stay there longer. Wakeboard racks can be attached to the tower, which provides better storage for equipment and keeps them neatly out of the way. Wakeboard towers also keep the rope from getting caught under the boat because of the way the rope is elevated off of the stern.
In recent years, wakeboard companies are putting sound systems across the towers and running the electrical through the tower to the head unit. Towers also now have cameras attached to the top where it records what the wakeboarders are doing.
Finding the Right Size
Boats designed for watersports like wakeboarding are usually between 18 to 25 feet in length. They sometimes have mounted swim platforms providing easy access to the water.
The smaller boats which are 18-20 feet in length usually have better performance and handling due to their lighter weight. These smaller-sized boats tend to be on the lower end of the pricing scale. Smaller boats also tend to be more sensitive to weight shifts, such as when someone changes seats. With smaller boats, you don't necessarily need a large vehicle in order to transport it, and thanks to their size they are easy to store.
Medium sized boats, which are 21-22 feet in length, are often the most popular, as they can handle choppy conditions well, while still being able to perform efficiently. Mid-sized boats are often just as easy to store as smaller boats. Depending on the climate and altitude you often boat in, you will not usually have to upgrade the engine and new boat pricing is still very affordable.
On the other hand, larger sized boats, 23-25 feet in length, have a higher passenger capacity and more in-boat storage than smaller boats. Bigger boats also have more ballast capacity, perform better in rougher water, and aren't as sensitive to weight shifts. These boats will require a large vehicle to transport them out of the water. One thing to consider is that larger sized boats often require engine upgrades, which adds to the overall cost to the boat.
Need help finding the right wakeboarding boat for your needs? Pride Marine has a large selection of new and used wakeboarding boats. Contact us online or give us a call at (800) 991-3006 today!